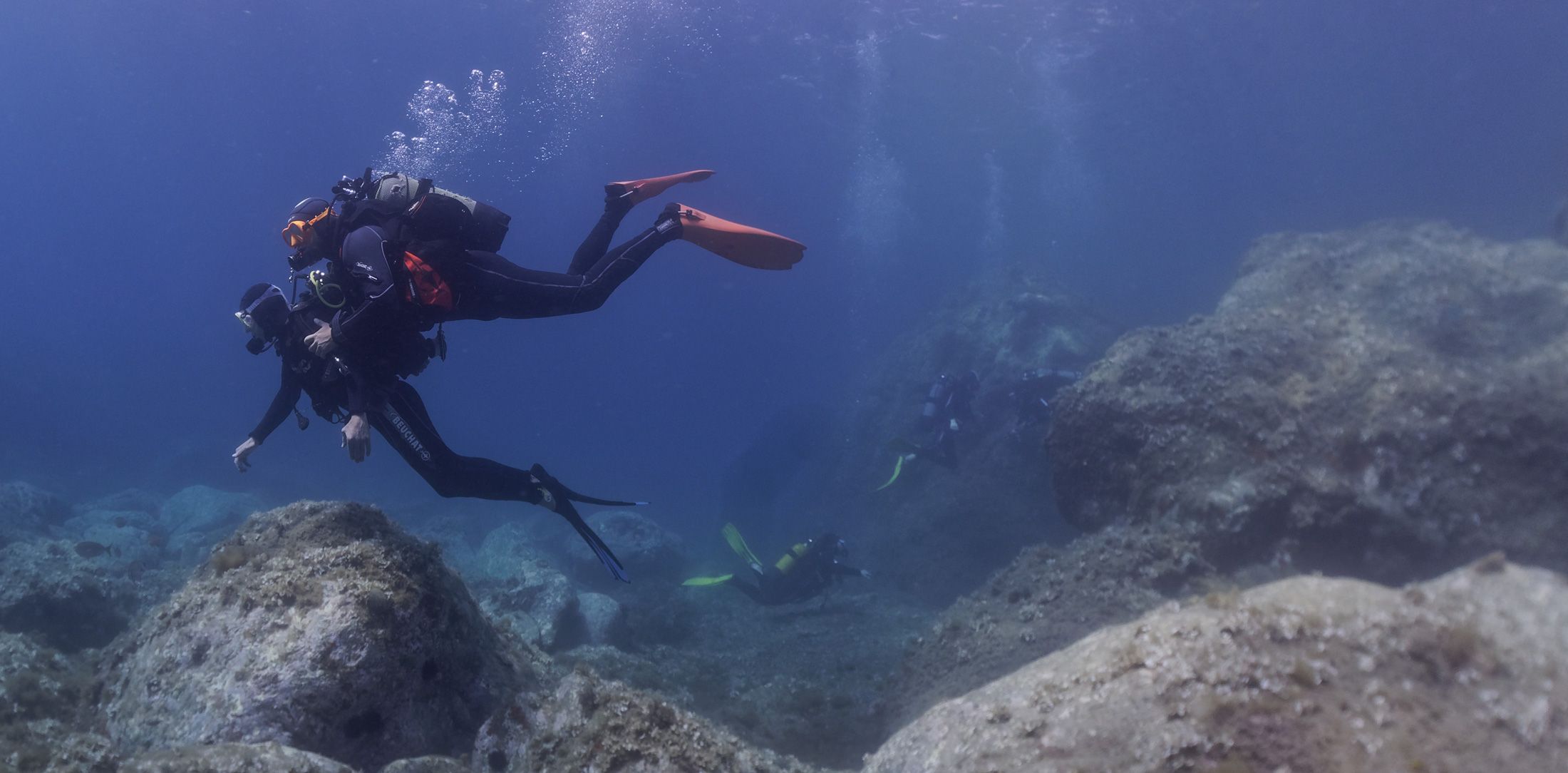 C.A.P Port-Vendres Team
C.A.P Port-Vendres Team is at your entire disposition to acquire essential skills for safety diving practice around the world.
C.A.P Port-Vendres, more than a learning center, a state of mind
Our four commitments
Scuba diving is an exciting activity to explore seabed and discover the sea.
We want to transmit our knowledge with professional teaching and coaching.
Discovering scuba diving with fun, educational and environmental friendly.

Sharing with you our diving passion, safely and with maximum pleasure.

You will learn diving with maximum skills, from beginner basics to expertise.

Our courses are based on rigor, efficiency, safety and adaptability.
The richness of the sites allows you to dive near the Béar cape, in the marine reserve of Banyuls-Cerbères or on one of our wrecks.
Cap Béar
Coves sheltered from all winds, various sites for training and exploration at all levels
Varied sheltered sites accessible to all
Marine Reserve
Discover a wide variety of dives in this protected sanctuary since 1974.
Varied rocky sites accessible to all
Very large premises, welcoming team, attentive and reassuring. Informed advice, good equipment and an ideal situation: near the port. A French diving club that stands out, ideal for learning or improving
A wonderful moment for my baptism; it was exceptional, perfect. Incredible sensations multiplied tenfold thanks to passionate professionals. A moment of grace:)
Infinite gratitude
Why go to a good centre when you can go to an exceptional centre of excellence at all levels
Supervision and nickel infrastructures, near the wrecks and the reserve, and friendliness at the rendezvous… and the icing on the cake is a dolphin on the landing on the way back from Alice-Robert!
Top !
A team of professionals.
Impeccable briefing, nickel frame, super nice and helpful. The premises, equipment and boats are at their best.
Beautiful wreck dives or in a nature reserve a few minutes away by boat.
I highly recommend this dive center.
PP – CMAS instructor 1★
Magic!
An exciting first dive. Passionate instructors, a good atmosphere on the boat, brand new premises and equipment, in short everything to have a great time.
I recommend the eyes closed (remember to open them underwater, it's beautiful)
A super spacious, bright and spacious diving centre with equipment at the TOP.
Antoine and Jules you are really PRO. Thanks to Cedric our dive director for his little tea after the dive.
A lot of professionalism I recommend this Club
A rigorous and professional but also warm centre where it is nice to come.
I went there as part of the 2018 International Festival of Scuba Diving where I did my first deep dive in exceptional conditions.
I thank the whole team for these few days spent far too quickly and hope to be able to come back soon.
I strongly recommend to anyone who wants to make bubbles towards Perpignan.
I hope to see you next year for the next festival and if possible well before…..